Product Description
In many projects, mainly and precisely the ones which have basement floors underground and project perimeter shoring is required either by diaphragm walls, secant piles, PC units, etc… to prevent the landslide around the structure or structures that one side of them is limited to the walls of other constructions, we need to use single sided wall formwork system against that particular retaining wall.
The basic components used in this system is almost same as the double sided wall formwork system, but we support the panel by truss frames which FORMO have already manufactured different heights to accommodate walls different heights which can go up to 8M in concrete pour height.
These trusses are connected to floor by pigtail anchor tie rod type with wing nuts whereas the pigtail anchors are placed as per drawings in the concrete raft / foundation before casting it. Theses HD frames designed / developed to take both lateral forces and uplift huge pressure induced by the hydrostatic pressure coming from the fresh concrete pour process. There are special brackets which are fixed on top of already assembled panels to allow for labor a working platform to stand on and palace the concrete vibrator with enough space.
Technical Details
Related products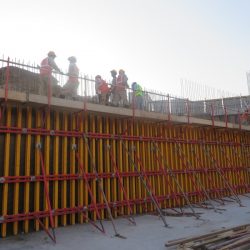 Vertical formwork system with excellent concrete finishing for walls, piers, abutments, columns, etc.
View Product Details