Product Description
This is a commonly used system in the market supplied by almost from all formwork suppliers, but with some small minor differences in steel walling size and shape although all are giving same concrete allowable pressure of 30 KN/M2, same assembly time, procedure and finally the same erection terminology. This system proved to be good for many large & small projects.
Normally when the system is going to be used for straight walls, angle walls, the contractor need to spend much less time to assemble and erect such a system rather than using conventional ways [ common timber, etc ], plus the system will provide a very safe concrete pouring process till the job is accomplished.
The system weight [ once assembled ] should allow concrete pressure of up to 50 KN/M2, so it is light, easy, safe and finally will take less area to restore in warehouse on top of easy loading & shifting on / by trucks.
There are special hooks that were developed to be fixed on top of each assembled panel to allow crane lifting while erection, strike process and shifting from one place to another. There are special brackets which are fixed on top of already assembled panels to allow for labor a working platform to stand on and palace the concrete vibrator with enough space.
Technical Details
Related products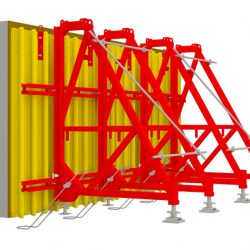 Single sided formwork systems compatible with any type of vertical formwork.
View Product Details